Quality improvement departments in behavioral health and human services organizations often do monthly or quarterly data reviews as part of their continuous quality improvement (CQI) process. The purpose of these reviews is to document and monitor progress towards quality improvement goals, identify areas that require new Plan/Do/Study/Act projects, or adjust improvement plans and existing PDSA projects as needed to ensure the best results.
A few critical reasons why monthly or quarterly data reviews are important for quality improvement teams include:
Identifying emerging trends and patterns: Data reviews can help QI teams identify trends and patterns in your organization's data such as changes in patient outcomes, improvements or declines in specific treatment programs, and changes in patient demographics. These insights can help the team identify areas that require attention and develop targeted PDSA projects to create lasting change.

Tracking progress: Data reviews can help quality improvement departments track progress towards quality improvement goals set forth in Strategic Plans or other internal departmental discussions. By comparing current data to previously documented data your team can determine whether their improvement efforts are having the desired impact, or if an adjustment to their approach and return to the Do Stage of PDSA may be necessary necessary.

Facilitating communication and collaboration: Periodic data reviews provide an opportunity for quality improvement team members to discuss the data in an easy-to-digest format, share different perspectives or solicit opinions with programmatic staff, and collaborate on improvement plans with relevant stakeholders. This can help to build a shared understanding of the data and promote a culture of continuous improvement within the organization.

Ensuring accountability: Data reviews can help to ensure accountability for quality improvement efforts across a variety of internal teams. By regularly reviewing data, the team can hold themselves and other stakeholders accountable for making progress towards quality improvement goals, collaborate with program leadership and other staff involved with a QI project, and ensure that credit is given where credit is due when ultimately presenting project results to agency leadership.




Overall, quarterly data reviews are an important component of the CQI process in behavioral health. By regularly reviewing data, quality improvement teams can identify areas that require attention, track progress towards improvement goals, and adjust their approach as needed to continuously improve the quality of care provided to patients.
QI Folio understands the need to keep the extensive tasks required of continuous quality improvement efforts in a consolidated, organized toolset. Our most recent release in February 2023 includes the ability to create Performance Indicators for each program to ensure data reviews can be completed accurately and often, and to follow a standardized approach to collecting and presenting the data for reviews.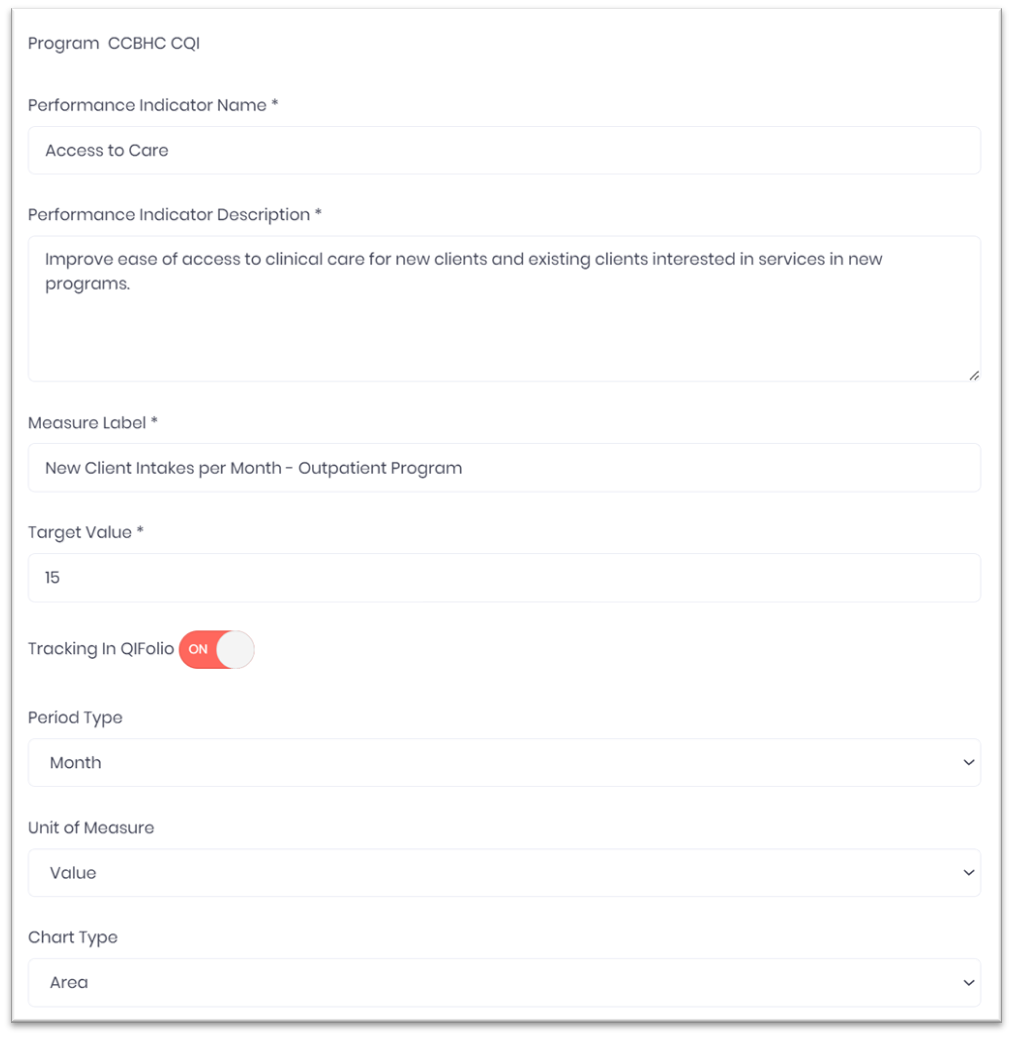 In addition to defining Performance Indicators in detail for each program, we also wanted to provide a straightforward tool for completing data reviews on a frequent basis without the need to navigate between folders, applications, or excel spreadsheets. Our Performance Indicators Monitoring enables users to choose the relevant data points for the current data review, analyze how the data compared to the stated targets, and review narrative notes written when the data itself was collected by QI team members.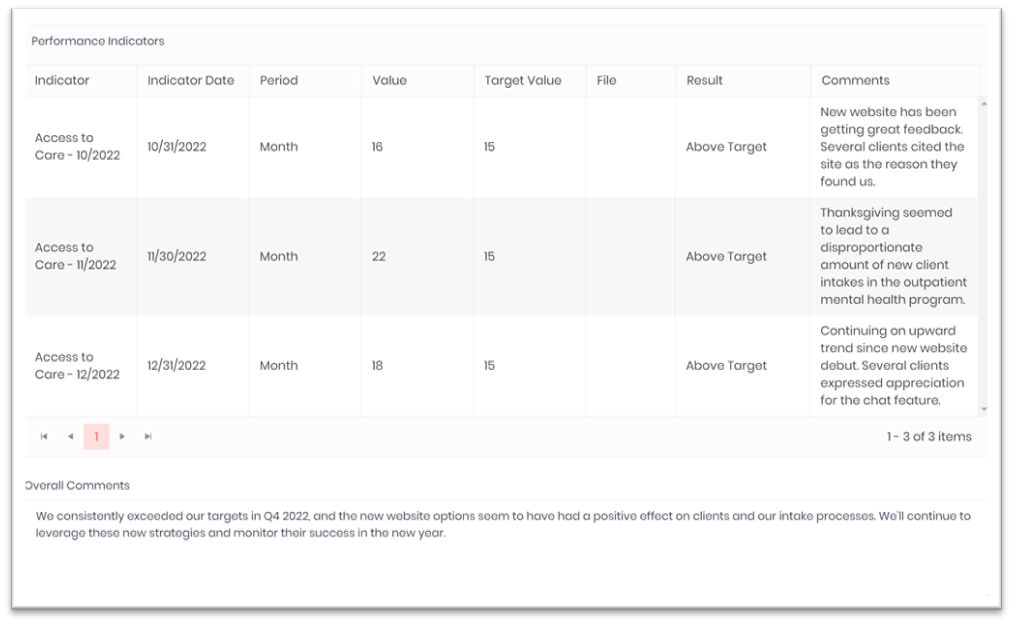 Our goal is to provide technology solutions for quality improvement departments which are typically underserved by health and human service technology vendors. Stay tuned for more exciting features being released by QI Folio!